« Pin World Championship | Main | GB2004 - starting order »
26 August 2004
GB2004 - tracking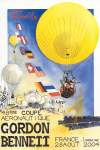 Saturday (August 28th) another Gordon Bennett Race will start from the Place de la Liberté in Thionville (France). The winners of 2003, François and Vincent Leys, won't participate this time. Nevertheless it promises to become a thrilling race.
The official website of this year's race is www.gordonbennett2004.org. And of course lots of relevant information will be published on OUR site too.
After the take-off you'll be able to follow the balloons 'live' on the official site. This is possible thanks to the Immarsat Satellites. On gb2004.sat-tracker.de you find a page in three languages (English, French and German) for the tracks of the balloons and all the necessary maps.
Posted by Marianne at 8:10 AM